FISH ON!
Annual NYS CDEA
Fish On Challenge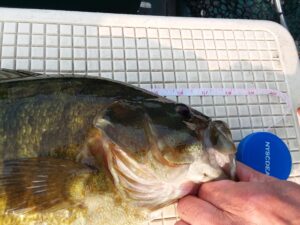 The NYSCDEA is sponsoring a fishing challenge to all anglers out there.
Categories:
Smallmouth Bass
Largemouth Bass
Northern Pike
Brook Trout
Rainbow Trout
Jokers Wild (Unique Fish)
Official Rules and Regulations
Participation Fee is $10.00 per person and each participant will receive a pocket tape measure with the NYSCDEA logo on it. Registration is available for NYSCDEA members only and is between March 1, 2022 - May 31, 2022.
Register for the Fish On Challenge at:
2022 Registration Form
Yes...you need to be registered prior to submittal of any fish. All entries need to be submitted between March 1, 2021 – February 28, 2022.
There are six categories and prizes in each!
General Rules
- You are not eligible to enter a fish if you caught it while fishing in a tournament.
- Entries are limited to those caught from NY waters only (including boundary waters).
- Entries will be scored based on length except for the Jokers Wild category, which will be judged by NYSCDEA on uniqueness of species, size and location of catch. Participant will have to specify why they think the fish is unique and why it should win.
Winners of all categories will be announced at the 2022 WQS Banquet.
For each entry, the participant is required to submit the following information to [email protected]:
1. Name
2. Date caught
3. Location (waterbody) …don't give up your secret spot, so saying farm pond is OK!
4. Species
5. Length
6. Picture of fish with the NYSCDEA tape measure or you in it.
7. If entering the Jokers Wild category you must include why the fish is unique and why it should win the category.
This is for fun only, so be honest and fair! If you have any questions, comments or if you are interested in registering, contact Maren Alexander at: [email protected]
Tell us more about your fishing adventures and check out CDEA Fish On Challenge on Facebook!